On Demand Grocery Delivery Maine
Food Safety is our Priority!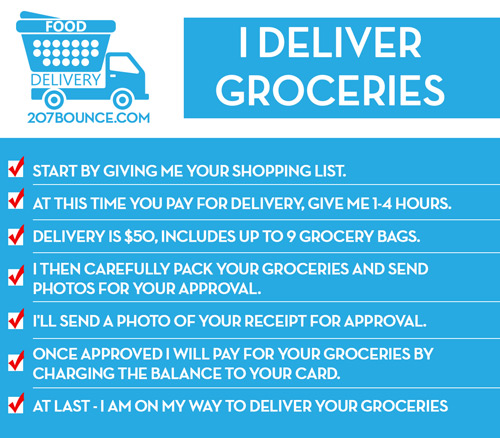 How does this grocery delivery service work?

It is different than other companies, that's for sure! I won't load up 20 customers at a time nor will I make you wait a week. Some stores can't even deliver right now and I can. It's just YOUR shopping list. One shopping list at a time. When you pay for delivery it's only a matter of hours till they are in your hands. Read about the process below.

Start by giving me your shopping list. At this time you pay for Delivery and give me 1-4 hours. Delivery is $50.00 and includes up to 9 grocery bags. I then carefully pack your groceries and send photos for your approval.

Approve and then I will pay for your groceries. Then I'll send a photo of your receipt for approval. Approve it and I'll charge the balance to your card. Now just give me an hour or so to head to your place. Enjoy your groceries!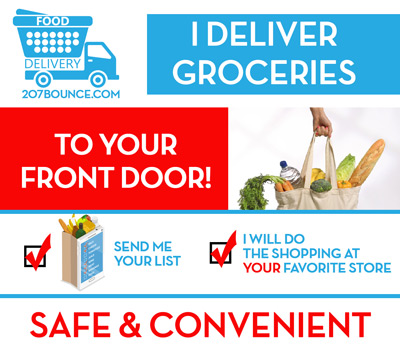 Yes! That's it! You've done it. Great job!

Call me in a week or so to replenish. Refer me to your friends. I'll be just as nice. Promise. Pinky promise.

Grocery delivery service from Safeway is available now. Even if they say they can't deliver, I can! Walmart grocery delivery, yes of course! Wholefoods groceries, you got it. Trader Joe's groceries? Dude, I got you! What ever place you can think of. If it's in the Southern Maine Area and within 20 miles from you, I deliver groceries. You see what I did there, haha.

So to be clear I deliver groceries from pretty much any store in these towns: Windham, Standish, Gorham, Gray, Buxton, Naples, Raymond. We will add more so if you don't see your town call us @ 207-615-2040