Best Bounce House Rentals on Demand
The small bounce houses and portable inflatable versions of bounce stations are the great entertainment for the children. Sometimes it's an excellent idea to give some space to your kids instead of taking them to a park or carnival. The bounce house rentals can help you bring the fun at your door step.

A bounce house is a lot of fun for birthday parties and a great way to attract more people along with their children to your fundraising event. When it comes to providing some space to the children for beginner level obstacle courses you can choose the bounce house rentals, which can provide you the desired fun space where you want. By taking advantage any combination of our concessions your party or fundraising will be completed and got huge success with all of your guests.
Maine's Best Bounce House Rentals
Fill your party and event full of bouncing good fun when you rent a bounce house from 207 Bounce; your source for inflatable fun and the best bouncers, moonwalks and jumping castles in Maine. All of our moonwalk rentals are cleaned and sanitized before every rental and are manufactured from "lead-free" vinyl for your child's and your guest's safety. We have a great selection of styles, colors and themes, sure to work with celebration atmosphere.
Get Details Now!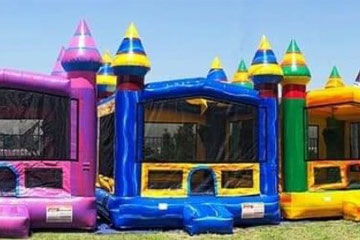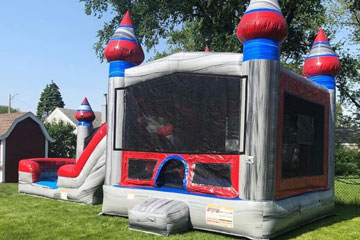 Combo Bouncers
You'll get the best value and the maximum fun with our bounce and slide combo rentals. Get the popular bounce area with additional fun elements.
Get Details Now!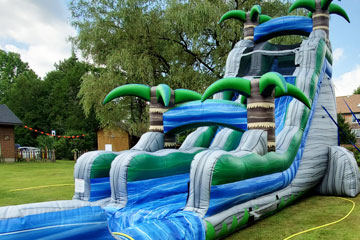 Inflatable Slides
Nothing says summer fun like one of our awesome water slide rentals. Big, bright, and colorful, these giant slides make a big impression!
Get Details Now!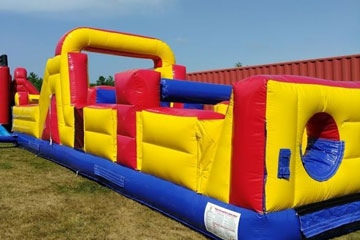 Obstacle Courses
Packed with fun and excitement our obstacle course rentals are a great choice for school fun days, church carnivals and company picnics!
Get Details Now!
Bounce House Rentals In Maine

We deliver bounce houses, inflatable castles, and bouncers for rent in Windham, Scarborough, Portland, Falmouth and Gorham, Maine, United States.


Bounce House Rentals In Windham

We offer bounce houses for parties, events and just for fun. We make every effort to meet the expectations of our clients with excellent quality and great service. Typically the inflatable bounce houses are the hit of the party for kids. Even if you are not throwing a party, they are so much fun. We have so many unique styles for boys and girls that are available to Windham, Maine. You can choose the one with the slide or without it. Call us to reserve your bounce house today.


Bounce house rentals in Scarborough

For the entertainment of your kids, we deliver inflatables and bouncy castles for rent in Scarborough, Maine, United States.
Our bounce houses, jumpers, and inflatables are available for rent to enrich birthday parties, entertain your kids and offer a lot of fun. We provide affordable and high-quality bounce house rentals in Scarborough. We have a wide range of inflatables ranging from small interactives to huge jumpers to water slides for rental. Our ultimate goal is to provide you with the best quality bounce house rentals and party supplies. Check our bounce houses and select the one you want for your party.


Bounce house rentals in Portland

A place with exciting, entertaining, and unexpectedly affordable bounce houses and inflatable castles in Portland, Maine, United States.
Bounce houses and other inflatables are offered for parties and events to provide your kids with their favorite fantasies in Portland. We will deliver and set up inflatables to your parties and all you have to do is to have fun at your party with bounce houses. We are a bounce house rental company with a proven record of success. We offer outstanding customer service and high-quality inflatables. Add a combination of inflatables to your party and make it unforgettable.



Bounce house rentals in Falmouth

The best point for inflatables and bounce houses for rent in Falmouth, Maine, United States.
Our jumpers, moonwalks, inflatables, bouncers, bouncy castles and moon bounces are the best way of entertainment for your kids birthday parties and events. Bounce house rental in Falmouth is the perfect way to bring home the excitement of an amusement park to your own party. Let us make your next event astonishing with our best bounce houses. Check our list of inflatables and select your favorite one. For questions don't hesitate to call us.


Bounce house rentals in Gorham

The best commercial bounce house rentals and inflatable bouncer supplier in Gorham, Maine, United States.
The bounce houses are available for corporate events, birthday parties and just for fun. We offer full service from bringing bounce houses and jumpers to plugging them in place. We are also fully insured and provide entertainment services in Gorham, Maine. You can also ask us about our themed character banner for your big Bounce house rental. It is easy to rent bouncers from us, have a look at our bounce houses to check details of which type of jumper you want to rent.
At 207Bounce we strive to become the ideal in what we do and think in the simple rates structure. We tend to be continuously growing and adding fresh products as we wish to be the greatest recognized bounce house and party rental organization in the region.

We provide bounce house rental Maine at very affordable price for Schools and Non-Profit organizations. There are many bounce house designs are available in our collection, some of them have water added for extra enjoyable, Portable Laser Tag, Jousting and also Boxing Arena, bounce houses, combo bouncers, concessions, giant slides, photo booth and water slides. If you don't have anything you don't know feel free to let us know, we'll add it to our collection for the unlimited fun at your door step.

We are not only providing bounce house rentals Portland Maine but also have a bounce house for sale. If you are looking to get a bounce house permanently we offer the most competitive prices for the small, medium and large size bounce houses. We also offer to sell water slides, photo booth, combo bounce houses and cotton candy machines.

We delightedly offer a wide range of safe and exciting party rentals to choose from. We have everything that you need to make your day full of joy, from inflatables, concessions, games and also all of your birthday party.

If you need some fun at you're party till the last minutes of your birthday or summer party, just give us a call and reserve your favorite and affordable bounce house rentals! We assure you will feel the great difference in the quality of produces and service.

We not only focus on fun but also take care of the safety of your children to give them unlimited fun, so keep maintaining bounce House rentals, Portland Maine.

We offer a Hassle free experience from the first contact to the drop-off and pick-up. Our Service is easy just pick up the phone and select a Bounce House here, and we will Book it via email or phone. You can pay when we drop off via Credit Card, Check, Cash No Deposit Required or Cancellation Fee. The Best part is the free delivery and set up.